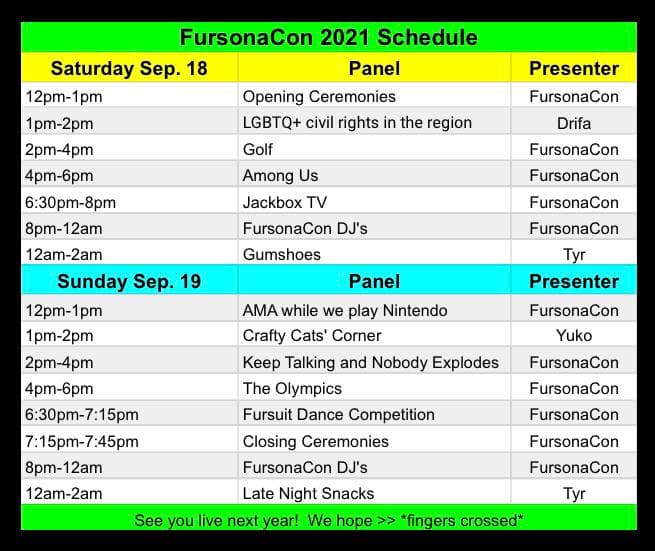 Opening Ceremonies– We'll talk about the schedule and how the online experience works. We'll answer any question you'll have.
LGBTQ+ Civil Rights in the Region– By Drifa- An update on recent and proposed changes in the LGBTQ+-related laws of Virginia and North Carolina. Join us and find out what state legislators in the region have been up to, both good and bad.
Golf– That's right. Golf. Come enjoy the thrilling experience of Mario Golf.
Among Us– Isn't this a meme?
Jackbox TV– Time for a friendly game of trivia, madness, and who knows what else.
Gumshoes– There's a mystery afoot. Can you solve it in time?
AMA while we play Nintendo– Join us for classic games and ask those hard hitting questions you've always wanted to ask.
Crafty Cats' Corner– By Yuko- Come craft with us! We'll be working with resin, paint, yarn and more! Learn a new skill or just come watch us make things!
Keep Talking and Nobody Explodes– We gotta keep somebody alive. This classic bomb defusing game gets us amped up!
The Olympics– We're gonna do some leg stretches. And then we're gonna run 800 meters, throw discus, and throw out our backs.
Fursuit Dance Competition– You know what it is.
Closing Ceremonies– I'm not sad, you're sad. Hopefully we can do this in person next year. ;.;
Late Night Snacks- By Tyr- Come talk with me like we're standing in someone's backyard next to the glass table at three in the morning having deep meaningful conversations.
JOIN OUR DJ'S BOTH NIGHTS FOR SOME NOISE AND HOP INTO NEOSVR TO DANCE AROUND AND ENJOY THE SHENANIGANS. (Details for NeosVr will be live at the event)